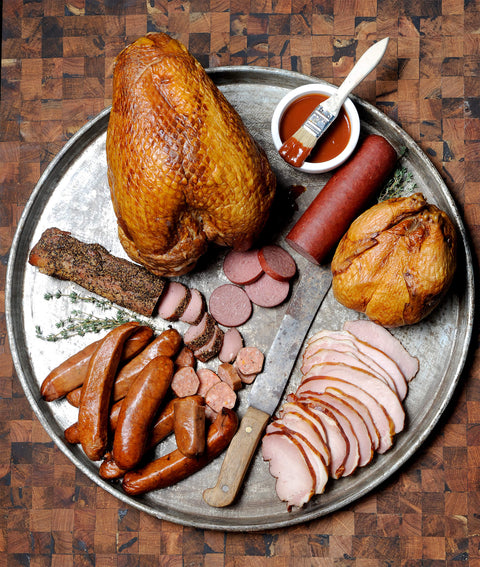 Bear Creek Smokehouse
Deluxe Sampler > Updated!
***We reserve the right to substitute any item in this box with a product that is of equal or greater value. Please keep this in mind when ordering!***
If you aim to knock the socks off of someone and really impress them, send them a Deluxe Sampler! If you need to feed a crowd, order the Deluxe Sampler! If you want to take a bite out of a several of our best-selling and favorite products, order the Deluxe Sampler! This impressive gift box includes a 5-7 pound Smoked Turkey Breast, a 1.75 pound Smoked Fryer Chicken, one pound of Sliced Pork Loin, one pound of smoked Peppered Pork Tenderloin, one pound of Summer Sausage, and we even include a two pound package of Polish Sausage. Everything in the Deluxe Sampler is ready to eat.
*We are currently out of Smoked Turkey Breast, so we will be substituting with another meat.*
If interested in purchasing for corporate gifts, please call our office for corporate discounts.